Janssen Supply Chain Ireland won the Chambers Ireland 2013 CSR award for Excellence in the Community category. This award was related to the "Message in a Bottle" initiative which Janssen supports through the Carrigaline & District Lions Club. This program encourages people, especially those living alone, to keep relevant medical details in a bottle in their fridge so as to provide appropriate medical treatment information in the event of an emergency. Janssen continues to support the Carrigaline Lions club in bringing this program to the community.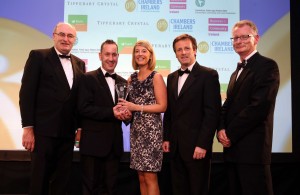 Pictured left to right are Phil Hogan – Minister for the Environment; Pat Allen and Nicola Sheehan accepting the award on behalf of Janssen; Kyran Johnson – GM Janssen; Ian Talbot – CEO Chambers Ireland. Special thanks goes to the team at Jannsen who have helped this initiative, particularly, Pat Allen, Nicola Sheehan, Eileen Triggs, Ger O'Brien, Anne Canniffe, the EHS Team and Fit4Life team.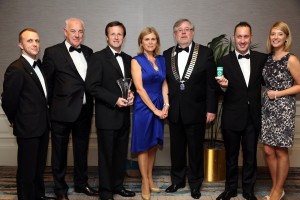 Pictured above are Brian Thoma – President Carrigaline Lions club; Michael Clince – Lions club Coordinator for "Message in a bottle"; Kyran Johnson – GM Janssen; Anne Cassin – RTE; Liam Lyons – District Governor Lions Clubs Ireland; Pat Allen – Janssen and Nicola Sheehan – Janssen.