Carrigaline & District Lions Club recently presented Carrigaline Community School with a whole range of Information books regarding Mental Health Issues for Teenagers & Young Adults.
Mental health is an area of interest for all the community but not necessarily one which receives the attention and focus that it deserves. It is an area that the Lions Clubs of Ireland have taken an interest in through the support of the "Assist Program" and other ventures. Mental health difficulties give rise to episodes of self harm and unfortunately in some cases to suicide. More people die in Ireland each year through suicide than die on our roads. Road safety, rightly, has a high profile but issues relating to mental health have not achieved the same prominence.
At a local level Carrigaline and District Lions Club is committed to raising the profile of mental health issues, the difficulties that can arise for each of us and the fact that help is available. No problem can be solved unless it is discussed and we as a club want to let people know that mental health issues can be discussed discretely and without embarrassment or stigma. People need to be informed so that they can understand the issues that may arise for themselves, their family, friends and others in the community. As a step in that process the Lions Club have made a presentation of books dealing with issues relating to mental health to the guidance counselors at Carrigaline Community School. They will use the books in their work with the students and will make them available to them. A similar collection of books is being presented to the public library in Carrigaline and will be available to the community at large. In addition to presenting the books to the school, the Lions Club made a presentation to a group of students on the topic of mental health and self harm. The issue of suicide is a particular problem for the 15 to 30 age group and especially amongst young men. The speakers lead by Lion Patrick Coughlan, emphasized the importance of looking for support and sharing problems, they spoke about the difference between perception and reality and the importance of listening to others when they want to talk. The presentation was well received and there will be continuing contact between the club and the school.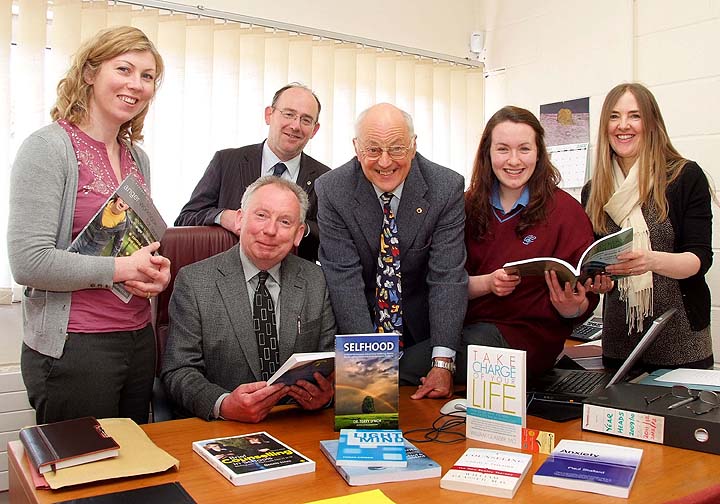 Pictured are from left, Katie Murphy, Guidance Counsellor, CCS ; John Hourihane, Principal, CCS ; Colm O'Rourke, President, Carrigaline & District Lions Club ; Patrick Coughlan, Lions Club Project Co-Ordinator ; Niamh O'Mullane, CCS Students Council and AnnMarie O'Riordan, Guidance Counsellor, CCS.

(Picture: Adrian O'Herlihy)