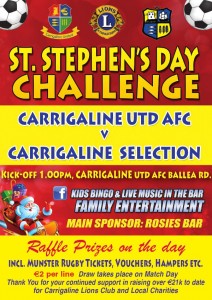 The St. Stephens Day Challenge match is by now a highlight on the fixture calendar for both Carrigaline United AFC and Carrigaline Hurling & Football Club. This event, now in its 9th year has raised over €21,000 with all monies raised on match-day going to the Local Carrigaline Lions Club and then distributed to local charities.
This year's hosts of the St Stephens Day Challenge Match are Carrigaline United AFC on their grounds at Ballea Park. The line up for the day is as follows:
Kick-off in the ladies game is at 1pm.
Next up are the legends teams (Golden Oldies) which includes past and present players from both clubs.
The final match of the day will be between the Senior teams from both clubs, who will be joined by Cork footballing captain, Michael Shields; ex- Cork City now senior manager with CUAFC, Greg O'Halloran;  former CUAFC players Mark O'Sullivan now of Cork City FC and Kalen Spillane now of Sligo Rovers FC.
Off the pitch and in the clubhouse at 3pm for those of a younger age there will be Kids Bingo with prizes galore, along with other kid's activities. There will also be live music in the bar from 4:30.
For the past few years we have incorporated a prize raffle draw. This year the main prize are two Munster tickets plus many more vouchers and hampers to be won. Lines cost €2 with the draw taking place on match-day…..
We would like to thank all our generous sponsors who include – Main Sponsor – Paddy Cronin of Rosie's Bar, Carrigaline, KWP Print our print Sponsors and all media resources for covering this event and to all of the local business for giving prizes for the draw.
We would also like to sincerely thank all three Clubs – Carrigaline Utd AFC, Carrigaline Hurling and Football & Carrigaline Lions for their continued support of this event.