The local winner of this year's Lions Peace Poster competition was Misake Parbrook from St. Mary's Primary School in Carrigaline. Misake's poster, shown in the background below, will now be entered in the National Peace Poster competition.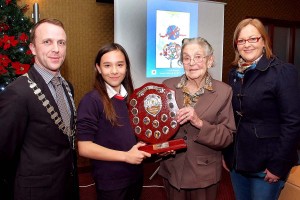 (Click to enlarge)
Misake Parbrook pictured receiving the Tom Morgan Perpetual Trophy from Helen Morgan, for her winning entry in the Carrigaline Lions Club International Peace Poster Award. Included also is Brian Thoma, President, Carrigaline & District Lions Club and Valerie Elliffe, Principal, St. Marys NS, Carrigaline.
(Picture: Adrian O'Herlihy)
Each year, Lions clubs around the world proudly sponsor the Lions International Peace Poster Contest in local schools and youth groups. This Contest encourages young people worldwide to artistically express their visions of peace. Students, ages 11, 12 or 13 on November 15, are eligible to participate.
Each year's contest consists of an original theme incorporating peace. Participants use a variety of mediums, including charcoal, crayon, pencil and paint, to express the theme. The works created are unique and express the young artists' life experiences and culture.
Spreading Peace and International Understanding
Twenty-four international finalists are selected each year, representing the work of more than 350,000 young participants worldwide. Posters are shared globally via the Internet, the media and exhibits around the world.