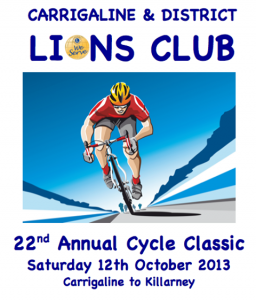 This year's Annual Cycle Classic takes place on Saturday 12th October and we are returning to one of our most popular destinations, Killarney in Co Kerry. The route from Carrigaline to Killarney is a very good challenge for the enthusiastic cyclist and we will also cater for the fun cyclist. It is hoped that this years' event will be bigger and better than ever. This is the 22nd year of the cycle which started in 1991 with 18 cyclists who raised €2,500. Since then, we have raised over €600,000 for various charities including €300,000 for Marymount Hospice.
CLOSING DATE FOR ENTRIES IS FRIDAY 27TH SEPTEMBER!!!!!
For further information or contact Mark Ginn, Station Road, Carrigaline.
Phone: 021 4373088 | Email: mginn@mgacc.ie
Read about the 2012 event here.