Five Lions Clubs from the Cork Harbour area came together to organise a cycle event from Fort Carlisle (Trabolgan) to Fort Meagher (Camden) on April 1st last. This was the inaugural event of what is hoped to become an annual fixture and it proved a big success with over 400 cyclists raising over €21,000 for local charities. The Fort2Fort cycle provided a number of distance options to cater for as many cyclists as possible, refreshments were provided en route and further refreshments and entertainment were provided at Fort Meagher in Crosshaven.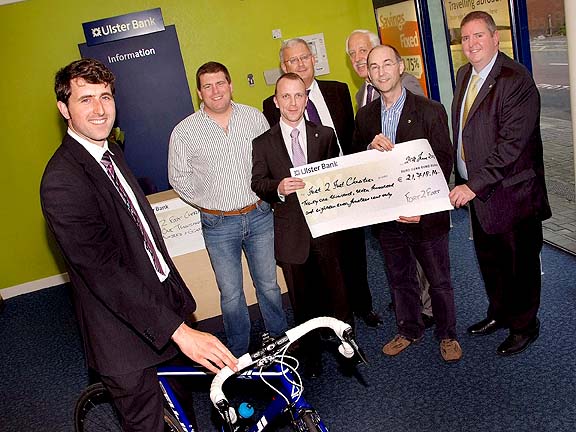 Members from the all the Cork Harbour Lions Clubs pictured at the cheque presentaion from the recent Fort2Fort Cycle Event around Cork Harbour. Proceeds of the event which came to over €21,000 were dispersed to the Mercy Hospital Foundation; Camden Fort Meagher Renovation Fund and various Lions Club Charities. Included from left are, Matthew Maguire, Cork LC; Paul O'Riordan, Douglas LC; Brian Thoma, Zone Chairman, Lions Clubs of Cork; Jim O'Connor, Midleton LC; Sam Beamish, Chairman, Fort2Fort Cycle Committee; John Doran, Carrigaline LC and Chris Allander, Cork LC.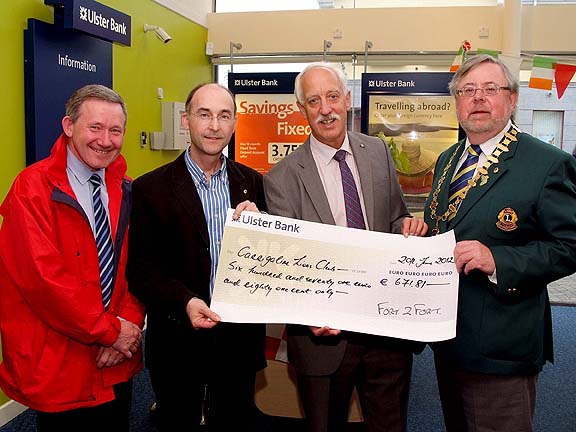 Pictured at the presentation of a cheque from the proceeds of the recent Lions Clubs of Cork Fort2Fort Cycle Event, were from left, Greg Aston, Fort2Frt Cycle Committee ; John Doran, President, Carrigaline & District Lions Club ; Sam Beamish, Chairman, Fort2Fort Cycle Committee and Liam Lyons, Vice District Governor, Lions Clubs of Ireland.
(Pictures: Adrian O'Herlihy)