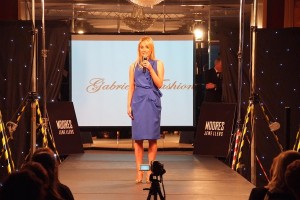 Last Thursday, the Carrigaline & District Lions Club hosted another Pink-a-Porter Fashion Show in the Carrigaline Court Hotel. The event was in aid of in aid of the CUH Breast Cancer Liason Service and Cork ARC cancer support.
The Fashion show was presented by the Lockdown Model Agency and featured Spring/Summer collections from Cork's finest Stores and Boutiques. A 350 strong crowd of ladies (and a few fashion conscious gentlemen) turned out to see the wide range of fashion on display.
Guests also had the opportunity to win some fabulous prizes sponsored by local businesses in Carrigaline which gave so generously to the event. The main sponsor of the event was Moore's Jewelers, Ireland's leading independent fine jewelers. "John Moore and his staff were fantastic and couldn't have done more to help us make this event a success" said Committee Chairperson, Aine Dunleavy. There was also a Best Dressed Lady competition, kindly sponsored by Catalyst Health & Fitness.
"We were delighted to be able to raise funds for this worthy cause", said Brian Thoma, President of the Carrigaline & District Lions Club. "The event will provided badly needed funds to the main charity, the CUH Charity Breast Cancer Liason Nurse and will also help Arc House Cork and other Lion's Club charities. We thank the hundreds of  ladies in Carrigaline who joined us on the night to make the evening such a massive success".
The CUH Breast Cancer Liaison Nurse will coordinate care and provide support to patients living with metastatic breast cancer in the Cork area. This new service can only be provided with the help of charitable support from the local community. Cork ARC Cancer Support House which is a voluntary organization established to provide a holistic centre in which people with cancer and their families can find emotional support and practical help.
[Photos: Adrian O'Herlihy]